24-Stunden-Notfalltelefon:
 0151-16717580
Bitte benutzen Sie das Notfalltelefon nur in wirklichen Notfällen, d.h. in Fällen der Verhaftung, der
Hausdurchsuchung oder derart dringlicher Angelegenheiten, die nicht während der üblichen
Geschäftszeiten erledigt werden können.
Home
Rees, Menges & Kollegen Rechtsanwälte GbR
The law firm of Rees, Menges & Kollegen is a joint law practice offering consulting, advising and forensic services with a strong commitment to the region. Six attorneys currently practice at the firm, each specialized in specific fields of law.
The attorneys at the firm are admitted to practice law in Germany at all district, regional and appellate courts, the German Federal Court of Justice (in criminal matters), and at all labour, social and administrative, and finance courts; some of the attorneys have already been successfully working together since 1987.
•
•
•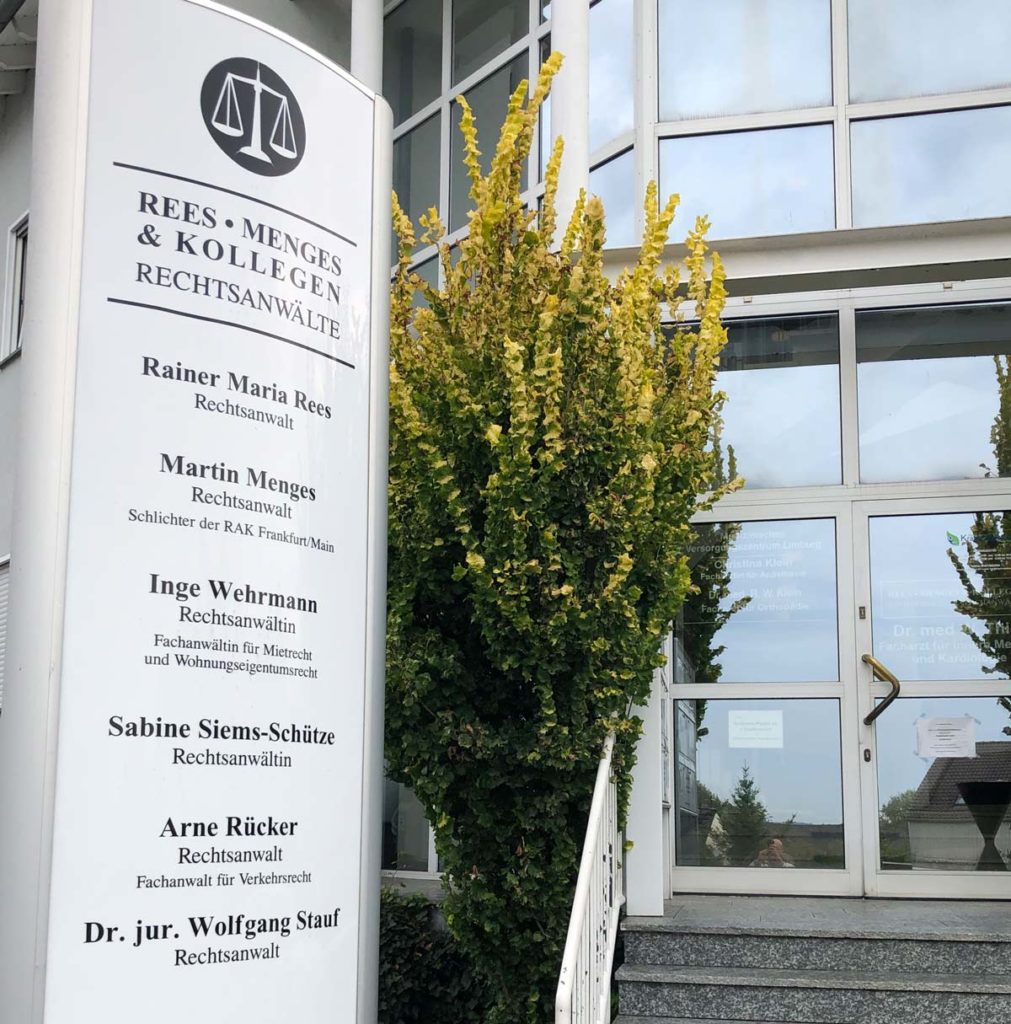 Areas of Law
The following list shows the fields of law that our firm specializes in.
In order to ensure the very best possible advice and representation for our clients, our range of services does not include certain fields in which legal problems can arise, but which may require a high degree of specialisation, such as matters concerning stock corporation law, alien and immigration law, and public planning law and regulations.
If issues or questions arise during the course of the consultation that require external expert knowledge, we will advise you of this and provide recommendations on how your problem can be resolved.
In addition, the list below also provides the names of the specialised attorneys who are the primary contact persons for the respective field.
Please note that this list is certainly not exhaustive.
Please do not hesitate to contact any of the attorneys in our firm if you have any general legal questions.
•
•
•
Medical Malpractice Law – Attorney: Ms. Wehrmann
Labour Law – Attorney: Mr. Rees
Laws on Taxes, Fees and Charges – Attorney: Mr. Rücker
General Private and Civil Law – Attorneys: Mr. Menges, Ms. Wehrmann, Mr. Rücker
Attorney Liability – Attorney: Mr. Menges
Architectural Law – Attorney: Ms. Wehrmann
Bank Law and Capital Market Law – Attorney: Mr. Menges
Building Law (private and public building law) – Attorney: Ms. Wehrmann
Civil Service Law – Attorneys: Mr. Rücker, Mr. Dr. jur. Stauf
Criminal Law Concerning Controlled Substances/Narcotics – Attorneys: Mr. Menges, Mr. Rücker
Guardianship and Conservatorship Law – Attorney: Ms. Siems-Schütze
eBay Law – Attorney: Mr. Rücker
Marital Law – Attorney: Ms. Siems-Schütze
Inheritance Law – Attorney: Mr. Menges
Family Law – Attorney: Ms. Siems-Schütze
Claim and Debt Collection – Attorneys: Mr. Rees, Mr. Menges, Ms. Wehrmann, Mr. Rücker
Utility Model and Registered Design Law and Rights – Attorney: Mr. Menges
Industrial Property Rights – Attorney: Mr. Menges
Property Law and Real Estate Law – Attorneys: Mr. Menges, Ms. Wehrmann
Trade and Commercial Law / Corporate Law – Attorneys: Mr. Menges, Mr. Rücker
Law of Agency – Attorney: Mr. Rees
Insolvency and Bankruptcy Law – Attorneys: Mr. Rücker, Mr. Menges
International Law – Attorney: Mr. Menges
IT Law – Attorney: Mr. Rücker
Juvenile Crime Law – Attorneys: Mr. Menges, Mr. Rücker
Sales Law – Attorneys: Ms. Wehrmann, Mr. Menges, Mr. Rücker
Leasing Law – Attorneys: Ms. Wehrmann, Mr. Rees
Real Estate Broker Law – Attorney: Ms. Wehrmann
Trademark Law – Attorney: Mr. Menges
Mediation – Attorney: Mr. Menges
Medical Law – Attorney: Ms. Wehrmann
Rental, Tenancy and Residential Property Law – Attorney: Ms. Wehrmann
Neighbour Law – Attorneys: Mr. Rücker, Mr. Menges
Victim Advocacy – Attorneys: Mr. Menges, Mr. Rücker
Misdemeanour Law – Attorneys: Mr. Rees, Mr. Menges, Mr. Rücker
Care Law and Senior Citizens Law and Rights – Attorney: Ms. Siems-Schütze
Travel Law / Passenger Rights – Attorney: Mr. Rücker
Pension Insurance Law and Rights – Attorney: Mr. Rees
Compensation for Damages / Compensation for Pain and Suffering – Attorneys: Mr. Rees, Mr. Menges, Mr. Rücker
Arbitration and Mediation – Attorney: Mr. Menges
Disability Law and Rights – Attorney: Ms. Siems-Schütze
Senior Citizens Law – Attorney: Ms. Siems-Schütze
Social Law – Attorneys: Ms. Siems-Schütze, Mr. Rees, Mr. Dr. jur. Stauf
Fiscal and Tax Law – Attorney: Mr. Menges
Criminal Tax Law – Attorney: Mr. Menges
Criminal Law – Attorneys: Mr. Menges, Mr. Rücker
Collective Bargaining Law – Attorney: Mr. Rees
Child Support and Maintenance/Alimony Law – Attorney: Ms. Siems-Schütze
Corporate and Company Law / Corporate Succession – Attorney: Mr. Menges
Copyright Law and Media Law – Attorney: Mr. Menges
Paternity Law and Rights – Attorney: Ms. Siems-Schütze
Public Procurement Law – Attorney: Ms. Wehrmann
Traffic Law – Attorneys: Mr. Menges, Mr. Rees, Mr. Rücker
Insurance Law – Attorney: Mr. Menges
Service Contract Law – Attorneys: Ms. Wehrmann, Mr. Rücker
Competition Law – Attorneys: Mr. Menges, Mr. Rücker
Business and Economic Law – Attorney: Mr. Menges
Criminal Business Law – Attorney: Mr. Menges
Debt Enforcement and Debt Recovery Law – Attorneys: Mr. Menges, Mr. Rücker
•
•
•